Sanddancer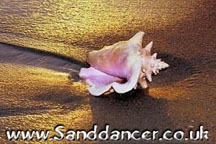 GEORDIE PROFILES
Nickname : saz
Home town : stevenage, herts
Sex : female
Age : 33
Communications No. :
E.mail : Bagpuss16x@lycos.co.uk
Favourite food : chips with lots of vinegar
Hated food : spinach
Favourite drink : champagne
Hated drink : vodka and coke
Favourite watering holes : eureka, lookout, somewhere with history
Favourite groups : the stones, queen, blur, james, elvis
No.1 favourite song : bohemian rhapsody
No.1 hated song : atomic kitten's 'the tide is high': a sow's ear out of a silk purse
No.1 favourite Film : the graduate
Favourite TV progs. : phoenix nights, the office, eastenders
Crap TV progs. : big brother, brookside
Perfect date : sitting on the beach (wrapped in a blanket) talking with gary cooper until sunrise.
Nightmare date : anywhere with uri geller
No.1 hero : stan laurel
Favourite footie team : magpies
Hobbies : travel, films
Lifetime achievements : not sure yet
My story : spent a lot of time in shields when i was younger (my dad is born and bred) & now get back as often as i can. yearn to be there after a couple of months away. must be something in the air.


South Shields Sanddancers