Sanddancer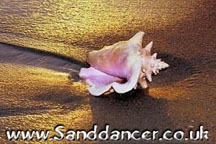 GEORDIE PROFILES
Nickname : mavis
Home town : south shields
Sex : female
Age : 38
Communications No. : icq 22586697
E.mail : mavis_lives@hotmail.com
Favourite food : italian / indian (depends on the mood man)
Hated food : i'll tell u if i think of one
Favourite drink : bailey's, tomato juice (not together mind!!)
Hated drink : lager
Favourite watering holes : tha'r aal the same man
Favourite groups : genesis, simply red, eurythmics, alanis morrisette, kate bush and robbie williams
No.1 favourite song : aerosmith - dont wanna miss a thing
No.1 hated song : tie a yellow ribbon round the old oak tree (lol)
No.1 favourite Film : the green mile, luvd saving private ryan too
Favourite TV progs. : friends, mtv, casualty
Crap TV progs. : let me think that one thru right oh?
Perfect date : robbie williams
Nightmare date : kenneth williams
No.1 hero : my dad
Favourite footie team : newcastle
Hobbies : chatting, reading and, erm....chatting
Lifetime achievements : i'm alive
My story : where the hell do I start?????
South Shields Sanddancers